Devon zoo's rare ray has 'unusual' pregnancy scan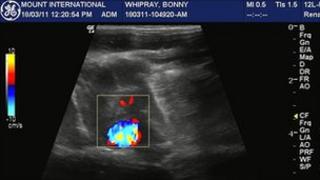 A £25,000 ultrasound machine has been used on a rare, venomous fish at a Devon zoo to see if she was pregnant.
Staff at Living Coasts said the procedure on Bonnie the mangrove whipray was "unusual, with no-one at the zoo having done anything like this before".
Images from the scan showed she was not pregnant and experts are trying to determine why she has put on weight.
If she had been pregnant it would have been a first for Living Coasts.
The species arrived at the zoo in 2008.
Head of veterinary Services at Paignton Zoo Ghislaine Sayers said: "Ultrasound works well on aquatic species, as water is a good conductor of sound waves.
"Ultrasound uses very short waves to get detailed images."
A spokesperson said the images from the scan will be e-mailed to experts in both Britain and the USA to help interpret the results and determine if anything is wrong with Bonnie.
The mangrove whipray is found in shallow coastal waters in the Indo-Pacific region.
The long, whip-like tail has a stinging spine which can injure humans if they are stung.
Globally, the International Union for Conservation of Nature has listed the species as Near Threatened.