HMS Cumberland should be saved, sailors' families say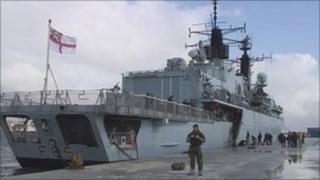 Families of sailors on a Plymouth-based frigate which is due to be decommissioned say the ship should be saved.
HMS Cumberland was on its way back to the UK to be decommissioned when it was diverted to rescue 200 people from Benghazi early on in the Libya crisis.
It was still at sea in the area, the defence secretary confirmed.
Sailors' families said the ship's recent work showed it was still needed by the Royal Navy.
Saving 'quite fitting'
One crew member's wife, who did not wish to be identified, told BBC News: "The ship should be saved.
"Surely she deserves that for all the work she's just done. I think would be quite fitting."
Another woman whose husband is serving on board said that the news the ship was not returning immediately had caused problems for families.
"I suppose we feel proud that they're out there doing something, but we think they've done their little bit. She should be home."
She added: "And if they [HMS Cumberland] weren't there, who else would they [the government] have used?"
HMS Cumberland is one of two British frigates in the Mediterranean off Libya's coast.
Defence Secretary Liam Fox said the type 22 frigate was in the region ready to support operations.
Earlier this month, the government said scrapping the Devonport-based ship, due to take place in May, would save about £60m a year.
An 18-month refit of the 486ft (148m) long vessel, which has a crew of 260, was completed in 2008.