Pyworthy pupils switch to hot pub lunches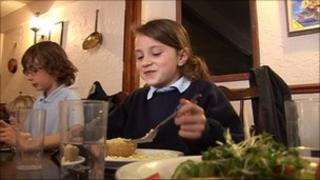 School children in a Devon village have swapped their school dinners for pub lunches because of a lack of space in the school to serve food.
Every lunchtime the pupils of Pyworthy primary school walk to the nearby Molesworth Arms where they have lunch.
The menu includes school staples like pasta, baked potatoes, roast dinners, fish and chips and apple crumble.
The pub landlady offered to provide the service when she heard school dinners were having to be shipped in.
Denise Short used to be a dinner lady before she took over the Molesworth Arms.
She said: "For pupils to be able to have food cooked fresh and locally-sourced, and sit at the table properly with a knife and fork rather than a plastic tray in their classrooms, I just thought it was the right thing to do."
'Part of community'
But Mrs Short said catering for the school children had helped the pub financially.
"It's kept us going through the hard times, because times have been very difficult.
"It's a good regular source of income."
About 20 children a day eat at the pub, at a cost to parents of £2 per head.
Headteacher Stephanie Olliffe said more children were now choosing to have hot dinners.
"Our numbers have definitely gone up.
"Before they were very low and we were worried about what we were going to do about providing lunches but now the uptake is really great."
The children use a separate entrance to the pub to avoid going through the bar area and sit in a separate dining room.
Mrs Short said the school dinner menu was also available to the pub's other customers as a lunchtime special.
"The role of the pub has changed, it's part of the community," she said.