Algae bloom 50 miles long found off Cornwall and Devon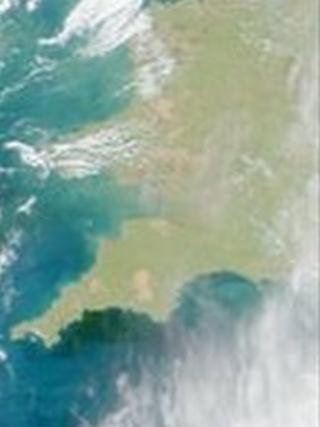 A 50-mile-long algae bloom has been discovered off the southern coast of Cornwall and Devon.
The swarm of skeletonema is floating between the Lizard in Cornwall and Salcombe in Devon.
It has only come to the surface because of the warm weather, Plymouth Marine Laboratory (PML) said.
Scientists at the laboratory discovered the bloom, and another off South East Ireland, using satellite images.
The algae is not harmful, the laboratory said.
Dr Peter Miller, Earth observation scientist at PML, said: "Skeletonema is a beautiful microscopic plant that, given the right conditions, reproduces rapidly to cover large areas of coastal seas.
"Over the winter nutrients have built up in the sea and the windy weather we have experienced recently has stirred them up to the surface.
Claire Widdicombe, a plankton ecologist at PML, said: "What is interesting is the timing of the bloom.
"We would normally expect the spring bloom to be a few weeks later than this."
The algae was discovered as part of the AquaMar project.
The project uses images from space as an early warning system to detect algae that might pose a risk to humans and the fishing industry.