Hay bale safety call after death of ELO's Mike Edwards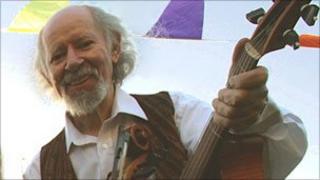 The family of a 1970s rock musician killed in a freak hay bale accident in Devon have called for safety warnings to prevent a similar incident.
Mike Edwards, 62, former cellist with ELO, died instantly when his van was crushed by a giant bale of straw at Halwell, near Totnes, in September.
Earlier a jury at Plymouth's Civic Centre returned a verdict of accidental death.
Afterwards his brother David said the death was "totally unnecessary."
Mr Edwards, from Totnes, was driving along the A381 delivering bottled water as a part-time job, when his van was hit by the 0.4 tonne bale.
The inquest heard how farm contractor Russell Williams, 25, had laid the freshly rolled bale against a fence in a field above a road and checked it was not moving before he carried on with his work.
But the cylindrical bale toppled over the fence and rolled down a steep slope, crushing the roof of Mr Edwards' van, trapping him inside and causing horrific injuries.
Baling expert Mark Richards told the inquest: "The main road was an area of concern and a point of danger.
"I would not have put the bale up against that fence."
Mr Edwards's brother David said: "Michael's death was totally unnecessary and totally preventable if a proper assessment of the risks of baling on a steeply sloping field next to a public road had been carried out.
"I would like to ask the coroner to recommend the HSE (Health and Safety Executive) revise their guidelines to include the hazards of baling on sloping ground, so similar tragedies can be avoided in the future.
"My brother's death has touched so many people's lives, not just my own family but the very many friends he had here in Devon, his music pupils, the many ensembles and orchestras he played with and loyal fans of ELO.
"He will be sadly missed by us all."
The Electric Light Orchestra was formed in 1971 and Mr Edwards, who trained at the Royal Academy of Music, was in the line-up from 1972 to 1975.
The band, who played rock and pop music with classical overtones, sold more than 50 million records worldwide and had numerous hit singles and albums in the UK and the US.
Mr Edwards later left the band and eventually settled in Devon, forming the Devon Baroque group.
On the day of his death he had been due to play in a concert in Totnes.
The HSE is still examining the accident and said it may prosecute the farmer, Brian Burden, or Mr Williams.
Plymouth Deputy Coroner Andrew Cox said he would now write to the HSE to ask it to consider improving its guidance to farmers on handling hay bales.