Torbay pothole prevention work under way on roads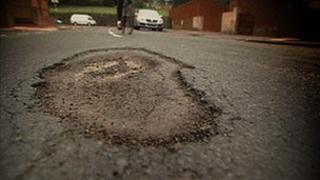 Resurfacing work to help reduce the risk of potholes is being carried out across Torbay in South Devon.
More than 30 roads in Torquay, Paignton and Brixham are having work done on them.
The council-run maintenance programme is due to last four weeks and is expected to cost about £200,000.
Last month Torbay Council told the BBC it had a backlog of 5,000 applications to fill potholes in roads.
It said it needed £30m to mend its roads after two harsh winters and subsequent thaws caused potholes across the county.
Councillor Dave Butt, Torbay council cabinet member for community services, said: "The council is aware of the problems caused by potholes.
"It has targeted roads where preventative maintenance can still be carried out, rather than roads where more substantial works are required."
The government has said it will be putting aside £100m for councils to bid for if they feel they have been badly hit by potholes.