Anger at Devon and Cornwall mobile phone 'not-spots'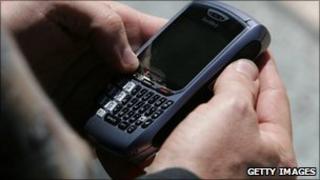 Businesses in Devon and Cornwall have complained about poor mobile phone coverage.
Businesses which are relying on mobile broadband networks said the lack of coverage in rural areas is affecting their operations.
Holidaymakers often rely on keeping in touch with their businesses via their mobile phones, said one holiday firm.
Communications watchdog Ofcom said it is working with phone companies to increase coverage.
The Country Land and Business Association and the Devon and Cornwall Business Council said it is a growing problem with more businesses reliant on mobile broadband coverage.
Sue Keen, of the Springboard training consultancy in Ilfracombe, said: "We have very limited mobile coverage.
"We have to put our phones on the windowsill to get one bar.
"The roads surrounding us have no signal at all."
She said the firm was missing out on business as a result.
"I tend to pick up a lot of messages in the evening from people who haven't been able to get through."
Keith Jenkins, of holiday firm Newhouse Farm Cottages near Witheridge, said: "We attract a lot of families.
"A lot of them are professional people who rely on their mobile phone to be in touch with their work and I think it probably does affect our business.
"I'm afraid mobile masts have to be there because this is modern Britain."
Window cleaner Chris Carroll, from Lustleigh, said: "I would rather have no reception and no masts and keep Dartmoor as natural as possible.
"The masts are unsightly."
Ofcom has produced maps showing mobile broadband coverage and gives links on its website showing which areas have mobile coverage from the major providers.
It is also undertaking a review of mobile phone coverage in Devon for a report later this year.
It said in a statement: "Mobile network coverage in the UK is generally good but some problems persist, particularly in rural areas.
"Ofcom is focusing on persistent so-called 'not-spot' areas and working where it can to facilitate better mobile coverage".
BBC Radio Devon is inviting comments on this story on its Facebook page.