'Eco-friendly' Cornish town bids for city status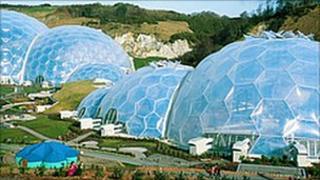 A town in Cornwall is competing against Reading and Middlesborough to become a city.
St Austell has submitted a bid to win the Diamond Jubilee Civic Honours Competition and be granted the status.
Mayor Jill Trewhella told BBC News the town's eco-friendly approach and sustainable development was its unique selling point.
Eden Project's chief executive Tim Smit also backed the bid. The winner will be announced in 2012.
St Austell has a population of about 22,000.
Ms Trewhella said: "There's no way we'll win because of our population or number of historic buildings but our edge is sustainable technology and development.
"We've won an eco-friendly award for our White River shopping centre, we have the Eden Project nearby and the eco-town application is on our doorstep."
St Austell is one of four towns in the UK identified by the previous Labour government to help launch sustainable communities.
'Lifetime opportunity'
Mr Smit said: "A city needs to have something special about it.
"In the absence of a cathedral, St Austell has a necklace of great cathedrals, its giant clay mines and it is the heartbeat of an industry of global significance.
"It has also embarked on a journey to become one of the most sustainable places in Europe.
"In 30 years' time St Austell will be, in my view, one of the most exciting places in Europe."
Ms Trewhella said: "It's a once in a lifetime opportunity."
She added that even if the bid was unsuccessful they were hoping for increased inward investment and more employment opportunities in the town.
The winner will be announced as part of the Queen's Diamond Jubilee celebrations next year.