Exeter racecourse punter wins £1.45m on £2 jackpot bet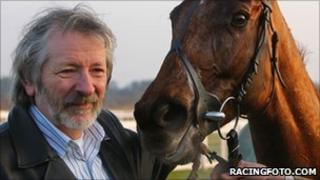 A heating engineer from North Devon has won £1.45m on a jackpot, after placing an original bet of just £2.
Steve Whiteley, 61, from North Tawton, hit the jackpot at a meeting at Exeter racecourse, which he had attended on a free promotion.
Mr Whiteley said he was "not a horse racing man" and only went once or twice a year.
The final horse of his six-race rollover jackpot bet, Lupita, ridden by Jessica Lodge, won at odds of 12-1.
'Shaking like a leaf'
He said: "The most exciting bit was after the fourth race when my mate said only seven people in the whole country were still in it.
"I couldn't watch the last race.
"I'm shaking like a leaf, I can't believe it."
He said he selected his horses at random: "It's difficult to say how I came up with them.
"The first few selections I had two in each race and that was going to cost £32 so I scrapped that.
"Why did I pick the last one? Lodge is just a name that sticks in my head.
"I'm not a horse racing man, I only go once or twice a year.
"I'm a heating engineer - well I was."
'Cattle class'
Jayne Amor, racing manager from Exeter's Tote, said: "The excitement at the racecourse was unbelievable.
"When we realised it was one ticket it was so exciting, the whole of the Tote has been cheering him on.
"He came to us after four races to check if he had been reading his ticket correctly.
"His money will be in the bank tomorrow morning."
At £1,445,671.71 Mr Whiteley's winning dividend was the largest in the history of the Tote Jackpot, where punters are required to correctly predict six winners on a card.
The winning horses at Exeter were Semi Colon (2-1), Black Phantom (12-1), Ammunition (16-1), Mr Bennett (16-1), Lundy Sky (5-1) and Lupita (12-1).
Lupita had not won in its last 26 races and the race at Exeter was jockey Jessica Lodge's first winning ride.
Asked what he would do with his winnings, Mr Whiteley said: "We're going on holiday a week on Friday.
"We were going to fly cattle class but we might upgrade now."