Plymouth Argyle lays off 16 and shuts shop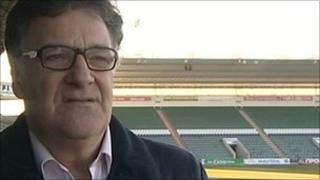 Sixteen staff have been made redundant at Plymouth Argyle and the club's shop has been closed in the city centre.
Buyers are being sought for the club which went into administration on Friday.
The League One club needs about £3m to meet its cash flow requirements between now and the end of the season.
Season ticket holders have been asked to donate £10 extra each time they see the club playing.
Peter Ridsdale, the former Leeds United and Cardiff City chairman, has been appointed executive director and chairman.
Administrator Brendan Guilfoyle, who is talking to potential buyers, said he "regretted" making the redundancies but the club's financial position required them.
He said: "We are talking about millions of pounds.
"We are looking for a keen purchaser who says 'yes I will pay the best price for the club and yes I will fund it in the meantime'."