Road repairs by utilities in Devon '39% faulty'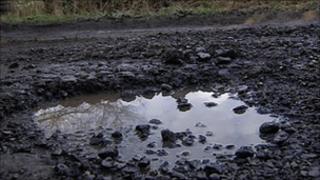 Inspections have revealed that nearly 40% of road repairs by utility companies in Devon are faulty.
Water, electricity, gas and other companies are obliged to reinstate roads to Department for Transport standards after carrying out work.
But the county council said samples showed that 39% failed to reach the standards required and repairs cost it £1.7m a year.
Local utility companies said they took their responsibilities seriously.
The Roads and Street Works Act 1991 requires utility companies to ensure that any part of the public highway they dig up is properly reinstated and firms face fines if they fail to comply.
The county council said it was still left to pay for making good repairs which did not reach the standard.
Councillor Gordon Hook said: "We have to find, because of the second-rate casual approach of too many of these companies, an additional £1.7m to reinstate the inadequate work every year.
"It's absolutely ridiculous."
South West Water said its contractors always tried to reinstate roads to the highest standard but admitted there were a "few occasions" when it did not.
Western Power Distribution said it was always looking at ways of improving.
Gas firm Wales and West Utilities said it was also committed to continuous improvement.