Plymouth diver Tom Daley stars in animated Olympic film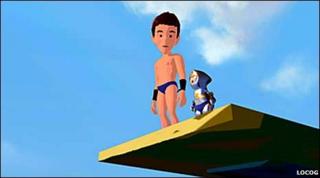 Plymouth teenage diving sensation Tom Daley has achieved an enormous amount in his 16 years.
And now the World and Commonwealth diving champion has another string to add to his bow - he has been immortalised in a cartoon.
The four-minute long animation - Adventures on a Rainbow - is the latest instalment of the London 2012 mascot films.
Written by Devon author Michael Morpurgo, the animation shows Tom teaching one of the Olympic mascots, Wenlock, to dive.
"It's incredible to see yourself as an animation, and quite strange at the same time," Tom told BBC Devon.
"It's not something I ever imagined would happen to me."
The film was produced by Crystal CG. Tom went to meet the animators before they started on the film so they could get their designs drafted.
Tom said: "I didn't actually have to do any posing for the feature, so I can't really take any credit for the performance.
"They sent the video through to me to look at once they'd created it and I thought it looked great."
The plot follows Wenlock and his Paralympic counterpart Mandeville on an adventure across Britain to encourage youngsters to take up sport.
On the way Wenlock meets Plymouth College pupil Tom on a 10-metre board.
The 16-year-old then performs one of his competition dives in the film, which is being shown to schoolchildren across the UK.
It aired for the first time on 1 March at a new 2012 shop at Heathrow Airport's Terminal Five.
Wenlock and Mandeville also meet animated versions of other British 2012 hopefuls including Shanaze Reid, Mandip Sehmi, Phillips Idowu and Ellie Simmonds.
Tom has just returned from Russia and is heading back there soon for the World Series, so how does he keep on top of his schoolwork with AS and A levels looming?
"Life's always pretty hectic but I guess I'm used to it now and it's just normal for me," said Tom.
"At the moment I'm concentrating on studying and training hard.
"It can be difficult to fit everything in, but I think after years of doing it, I've found a way to juggle training, school and seeing my friends and family.
"It's pretty cool to feature in an animation. I'm really excited to see what my friends and family think of the animated me!"