Disposal experts detonate Plymouth WWII bomb at sea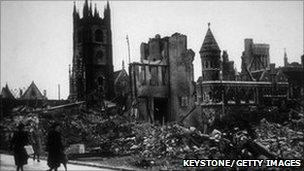 An unexploded World War II bomb has been detonated off Plymouth Sound.
The device was unearthed by a workman on Wednesday afternoon at a building in Notte Street, near the city's Hoe.
Nearby properties, including the Holiday Inn hotel, were evacuated, but residents were allowed to return to their homes at about 2300 GMT.
The device was made safe before it was moved to the seabed inside Plymouth Breakwater, with an exclusion zone around it.
Naval ordnance specialists carried out a controlled explosion just after 1030 GMT.
The bomb, which was discovered by a demolition contractor, was the same type of device as one found on the Notte Street site in November.
The city suffered badly at the hands of the German Luftwaffe in WWII, with more than 50 bombing attacks between 1940 and 1944.
During the Plymouth blitz attacks, about 1,200 civilians were killed and thousands were injured.
Numerous unexploded bombs have since been discovered and detonated.
Related Internet Links
The BBC is not responsible for the content of external sites.