Barnstaple church climbing wall takes shape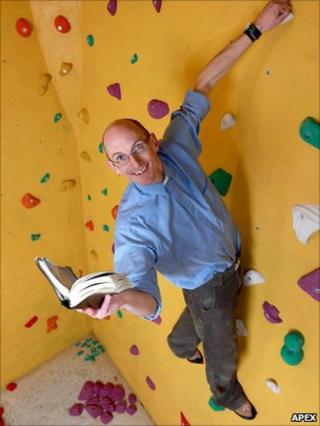 A climbing wall inside the bell tower of a Devon church is taking shape.
The £12,000 wall, at Holy Trinity Church in Barnstaple, is thought to be the only one in a UK church.
When the inside of the bell tower fell into disrepair, the Reverend Andy Dodwell came up with the idea of the 25ft (82ft) high climbing wall.
The wall is nearing completion before being tested for safety and being opened to the public in May.
Community relationships
Mr Dodwell said the wall was a "natural option" for the inside of the 19th Century tower because of his former job as an outdoor activities instructor.
"I'm really pleased with how it is turning out. Otherwise it could have ended up as a storage area.
"This way there is something for the whole community to use," he said.
Mr Dodwell is hoping income from the wall will pay for a church youth worker who will double up as a climbing instructor.
He said: "The message is that the church is about making relationships with people and the community and making God real and relevant."