Loan gives Plymouth Argyle breathing space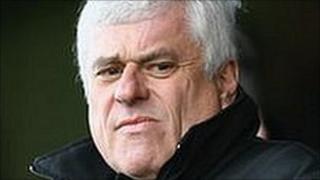 Struggling Plymouth Argyle Football Club has been been thrown a financial lifeline by supporters.
Plymouth Argyle Supporters Training and Development Trust has lent the club what the BBC understands could be as much as £300,000.
Peter Ridsdale, who was brought in as an advisor, said it would meet the club's next tax payment on Wednesday.
But he is leaving Argyle on Tuesday because £2m from the club's major shareholders has failed to arrive.
The League One club is due to appear in the High Court on Wednesday to make the latest instalment of tax payments to HM Revenue and Customs (HMRC).
Former Leeds United and Cardiff City chairman Mr Ridsdale told BBC News that the trust's "extremely helpful" loan meant the tax payment would be met.
The club has already paid about £700,000 to HMRC, but Mr Ridsdale said it needed more money to get through the rest of the season.
'Worried sick'
He had been hoping for a £2m investment from Japan-based Yasuaki Kagami and George Synan who own 38% of the shares in Plymouth Argyle.
But no money had come from them, so he would be leaving Argyle on Tuesday.
He also revealed that the club was talking to new investors about buying the club.
"These discussions take a long time and they are at an early stage," he said.
"The fact that there are external parties that might have an interest is a light at the end of the tunnel if you like, but it's a very dark tunnel."
He added: "I will advise from a distance with potential investors.
"But I'm worried sick that time is not on Argyle's side."
Mr Kagami and Mr Synan have been unavailable to comment.
Plymouth Argyle is currently in 18th place in League One, three places above the relegation zone.