Money for M5 Junction 29 improvements near Exeter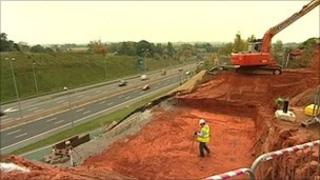 Jobs will be created when "vital" road improvements to Junction 29 of the M5 begin in the spring.
Devon County Council has been given the green light and £10.4m of government funding.
It said the scheme holds the key to 10,000 new jobs at Exeter Science Park and Skypark along with the expansion of Exeter Airport.
The bulk of the money will come from the Department for Transport (DfT) in the new financial year.
Council leader John Hart said when the government put the scheme on hold last autumn, the county council had to shave £1.5m off the cost of the road improvements to kick start the scheme.
Tenders submitted
"It is vitally important to the economic health and vitality of the greater Exeter area," Mr Hart said.
"It was always a cost effective project but now it is even better value for money."
The council, which had already invited tenders for the project, said it hoped to announce the preferred contractor within the next few weeks.
Work should start by the end of April and it is expected be completed by summer 2012.
Elsewhere in Devon, plans for a £130m bypass between Newton Abbot and Torquay were put through by the government to the next stage of the bidding process.
Torbay Council and Devon County Council had cut costs by £16m and raised their share of funding from £12.5m to £33m, but the DfT said to stand a "good chance" of government funding, they would have to shave more off the total cost.
Both authorities will make a final funding bid early in 2012 and if successful the bypass, which has been planned for more than 50 years, could be finished by 2015.