Sandwich board job plea by unemployed Devon company boss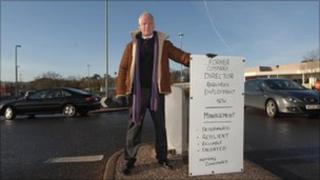 An unemployed former company director in Devon is advertising his skills on a sandwich board.
Before selling his business in 2007, Michael Adlington employed 120 people at his care company which had a turnover of £1.2m.
But following the breakdown of his relationship and sale of his Ideford home, the 51-year-old now needs a job.
The sandwich board outside Newton Abbot racecourse reads: "Former company director requires employment now."
'Positive' reaction
Mr Adlington describes himself as a determined, resilient, reliable, talented person who would prefer a management job, but is willing to consider anything.
"I believe you have to have a really positive attitude and go out there and get a job," he said.
"I don't think the best way of getting a job is by sitting behind a computer screen."
Mr Adlington said that despite sending out CVs and applying for numerous jobs he has struggled to find work.
"It is extremely difficult... there are a lot of people trying to get jobs," he said.
"The internet is hopeless - I have sent off 42 applications and not got one reply at all.
"The last two days out here with my sandwich board has been much more productive."
Mr Adlington said the reaction of local people had been "quite positive" and he had been approached by one national store which has advertised its employment of older staff.