Okehampton 'devastated' over Polestar and Wiseman jobs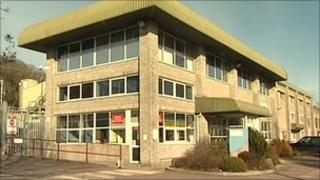 A Devon market town is "devastated" by the loss of more than 300 jobs say business chiefs.
Frozen Desserts firm Polestar is laying off 232 jobs, said the owners on Tuesday.
Fourteen staff have been retained to maintain the production facilities in the event that a buyer is found.
Sixty-nine jobs are also expected to go with the closure announced last week of Robert Wiseman Dairies.
Ian Bailey, chairman of Okehampton Chamber of Trade, told BBC News: "The whole town is devastated by the news.
"We lost Robert Wiseman last week and Polestar this week. That's 300 jobs in a small market rural town like Okehampton.
"It's not just the people who are employed by them but also the other companies who are suppliers.
"A lot of them live and work locally.
"It's a black, bleak week for Okehampton."
'Kick in teeth'
Investment firm Privet Capital bought Polestar in November 2010 and predicted expansion at Okehampton.
But on Tuesday it said it had encountered "unforeseen problems" and was working to find a buyer.
John Crick, of the union Usdaw, said: "A lot of staff have been here for 25 or 30 years - it's all they know.
"Okehampton is a lovely place to live and work. The people here are good solid country people who work hard and they don't deserve this.
"This is a real kick in the teeth."
Tim Jones, chairman of the Devon and Cornwall Business Council, said he was "incredibly angry".
"This is a proud company, with a proud workforce in a proud market town.
"Privet have dealt with the workforce in a very cavalier way and it's very disturbing."