Teenage domestic abuse tackled in Facebook campaign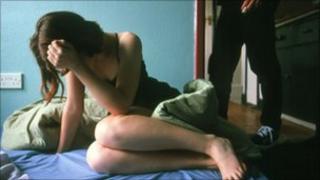 Police in Devon and Cornwall have launched a Facebook campaign to highlight domestic abuse among teenagers.
The force hopes it will help young people understand "what is acceptable in a relationship and what is not".
In a 2009 NSPCC study on teenage relationships, 25% of girls and 18% of boys reported some form of physical violence.
The "Is this love?" campaign will run until 14 February.
Det Supt John Clements said: "We know that there is a significant amount of abuse within under 18 girlfriend/boyfriend relationships, both emotionally and physically.
"We thought this was an age group we could have a lot of impact with.
"We want to get debates going about what is acceptable and what isn't. We want it to be like a process of self-discovery or self-awareness for young people."
Abuse 'normal'
A spokesperson for the NSPCC said: "A third of girls suffer unwanted sexual acts in a relationship and a quarter physical violence.
"It is shocking to find that so many young people view violence or abuse in relationships as normal.
"Many will not tell their parents what is happening.
"We must make sure that every young person knows this behaviour is never acceptable, that nobody should hurt or scare them."
Although the Facebook campaign is due to end on Valentine's Day, Det Supt Clements said it may continue longer if the response is positive.
The NSPCC statistics are from its 2009 report with Bristol University: Partner exploitation and violence in teenage relationships.