Westward Ho! beach ban threat to kite sports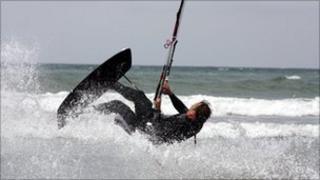 Kite surfing and kite buggying could be banned on a north Devon beach.
Torridge District Council has started asking people what restrictions there should be on the sports at Westward Ho! near Bideford.
The options are to keep current restrictions which allow full access in winter and a reduced area in summer, restrict use all year, or a total ban.
Kiting enthusiasts said the current restrictions worked but more signs would educate people about the rules.
Westward Ho!, with its wide sandy beach, is regarded by kiting enthusiasts as one of the best venues in the UK with up to 60 people kite surfing and kite buggying at peak times.
'Kite surfing Mecca'
Enthusiasts are restricted to a designated "sand sports zone" on the beach between 1 May and 30 September.
Outside these dates there is no enforcement in place, raising concerns for the safety of other beach users such as families with children.
A council spokesman said: "We have not had any accidents or fatalities and there have been no official complaints, but we are trying to get the views of people.
"It is being proactive rather than reactive."
Peter Sawyer, from the Kitemare shop in Barnstaple, said: "Westward Ho! is the Mecca of kite surfing in the UK.
"There are a minority of people who believe they have a God-given right to flout the rules, but 99% of people respect them."
He said more signs on the beach would help kiters understand the restrictions.
"Education is the answer.
"There is only one sign on the beach so many people simply don't see the rules."
The council is asking for responses on the consultation by 25 February.