Jobs to go at Okehampton's Polestar Foods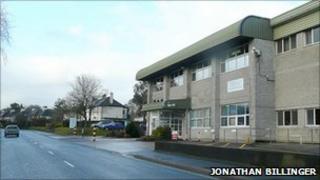 A Devon factory which makes desserts is to close, costing 230 jobs.
Managers at Polestar Foods in Okehampton met unions to reveal the news on Tuesday.
Workers were not paid last week and production at the site has halted. A sister factory in Warwickshire went into administration in December.
Owner Privet Capital said it would try to appoint an administrator and find a buyer in the hope that some jobs could be saved.
'Kept in the dark'
The Usdaw union said there had been cash-flow problems at the factory.
Staff said they were angry at being "kept in the dark" about problems until the announcement.
Employee Kenny Shaddick said: "I've been there 29 years. It feels like it's been a waste of time.
"It's really hit me hard."
John Crick of the Usdaw union said it was hoped "somebody will come along and give us another chance".
He said: "There is demand for this product. It's a good plant with machinery and a good workforce.
"They can make this a viable company again."
Privet Capital said it had made an exhaustive effort to keep the factory going.
The closure is the second major announcement of job losses in the town recently.
Last week it was announced 69 jobs were expected to go with the closure of Wiseman Dairy.