Peter Ridsdale gives ultimatum on Plymouth Argyle cash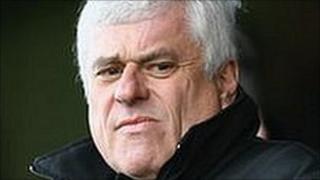 Peter Ridsdale has given an ultimatum to the club's major shareholders to pay up by 8 February, or he goes.
The former Leeds United and Cardiff City chairman was brought in as an advisor to reduce the club's debts.
The League One club has already cleared a £700,000 tax bill to HM Revenue and Customs through the sale of players.
But Mr Ridsdale said the club desperately needed £2m it had been promised from Japanese-based directors Yasuaki Kagami and George Synan.
Mr Ridsdale said the club's financial situation was "worse than perilous" and the money was to needed to meet running costs until the end of the season.
He told BBC News: "I came to try and assist Argyle, having been given clear assurances of investment from the Far East.
"I then made it clear that I could not stay if that money had not arrived because I didn't see how we could complete the task.
"The money hasn't arrived. The eighth of February is next week and I've informed the board in writing therefore under those circumstances there is no point in me staying."
'Biggest regret'
Investment from Mr Synan and Mr Kagami, who own 38% of the shares in Plymouth Argyle, was a "critical part in the survival plan".
In January, the club failed to pay players on time for a third consecutive month.
He said: "We have sold players, but we need money from the Far East and not a penny has been forthcoming."
He added: "The biggest regret that I have is for Argyle supporters because this is a wonderful football club with a tremendous history and it deserves to succeed."
Mr Synan said in a statement: "At this stage we are working together to put together a solution and that is our only focus at this point."
He said he would make further comment "later this week".
On Monday, Plymouth City Council refused to buy Home Park and lease the ground back to Plymouth Argyle.