Fortfield Hotel in Sidmouth faces demolition after fire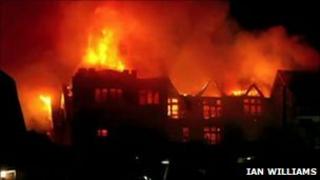 Parts of a derelict Sidmouth hotel may have to be demolished after a second damaging fire in less than a month.
Building engineers have surveyed the remains of the Fortfield Hotel and found some walls are unstable.
No-one was injured in the fire and an investigation into the cause has started.
Eighty firefighters tackled the fire on Friday night at the hotel, which was severely damaged in another blaze in December.