Man feared drowned as boat sinks in Plymouth Sound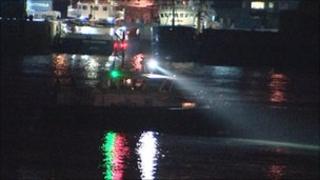 A man is feared drowned after he returned to a sinking ship to retrieve some equipment in Plymouth Sound.
The 30m ex-Navy motor fishing boat started taking on water on Sunday afternoon while tied to concrete pontoons at the Clovelly Bay Marina.
Three of the crew managed to escape but a fourth man has not yet been found.
He was last seen leaving the wheelhouse and was wearing yellow oilskins but no life jacket. Police are expected to resume an underwater search later.
A team of police divers and an RAF search and rescue helicopter spent the evening scouring a 1.6 mile (2.5km) stretch of coastline on Sunday evening but called off the operation at about 0130 GMT.
The search is expected to resume at 0800 GMT.
A spokesman for Brixham Coastguard said: "The divers went down to the sunken vessel last night and found nothing, but the light was failing.
"It would appear the man had gone back into the wheelhouse to retrieve some navigation equipment, when the vessel finally sank."
RNLI lifeboats have also been employed in the search round the Yarmouth Navigator which is thought to be based at Plymouth Yacht Haven in Turnchapel.