Demonstration against Devon waste incineration plans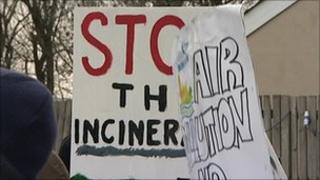 More than 100 people have demonstrated against two incinerators which could be built in Devon.
Campaigners are opposed to plans for the plants at Devonport in Plymouth and the New England Quarry near Lee Mill.
They want Plymouth city councillors to oppose the plans at a meeting next week.
MVV Umwelt was chosen as the preferred bidder for the Devonport site earlier this month, and Viridor said it would press ahead with plans for Lee Mill.
MVV Umwelt said its incinerator would generate both electricity and heat, helping to reduce carbon dioxide emissions from fossil fuels, while Viridor said there was still a market for its development.
But on Saturday, the demonstrators who gathered in Ivybridge said better alternatives were available.
Charlotte Mills from the campaign group EcoIvy said the prospect of two mass incinerators being build was devastating.
"There's a meeting next week with all three councils - Torbay, Devon and Plymouth - and they're going to make a decision about the business case for an incinerator," she told BBC News.
"We want them to know we do not want incineration. We do want them to consider other cleaner, greener and cheaper alternatives."
MVV Umwelt is due to submits its planning application for an energy-from-waste plant at Devonport Naval Base's North Yard in the spring.
The £140m contract was awarded to MVV Umwelt by South West Devon Waste Partnership in January 2011.