Cardboard bed sleep-out for top Exeter policeman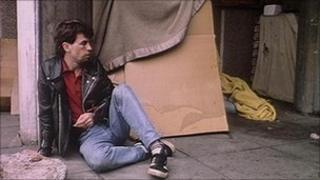 One of Devon's most senior police officers is taking part in a mass sleep-out to highlight the homeless situation.
Despite a forecast of sub-zero temperatures, about 50 people will sleep under cardboard in Exeter.
Last year, the YMCA's Sleep Easy event raised more than £115,000 across England.
Assistant Chief Constable Paul Netherton said he had swapped his duvet for cardboard for an important reason.
'Sofa-surfers'
"I only have to spend one night out of my comfort zone but many people throughout the region are affected by homelessness day in, day out," ACC Netherton said.
"By taking part in this event we can raise their plight and hopefully help tackle the issue.
"Confronting the problem of homelessness is not only good news for those people affected but benefits the whole community as well."
The volunteers will build their own shelters at the Guildhall shopping centre in High Street.
Paul Stephenson from Exeter YMCA said there was a "significant number" of young people in and around the Exeter area who were homeless due to various circumstances.
"Many more are what we call 'sofa surfers', who sleep on friends' sofas with no guarantee of shelter tomorrow," he said.
The YMCA in Exeter provides more than 14,000 nights accommodation to local young homeless people who have nowhere else to go, Mr Stephenson added.