Sea defences will keep a railway line 'viable' in Devon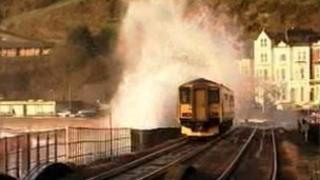 Sea defences will keep the Dawlish to Teignmouth railway line viable according to the Environment Minister.
Minister Lord Henley said a new route would be "far too expensive" and defences should be the current plan.
Climate change experts have warned that sea levels could rise making the line more difficult to protect.
Over the last 10 years, Network Rail has invested more than £8.5m on the defences.
'No brainer'
Lord Henley has been in Devon to highlight the work that is under way to secure the line.
He said: "It looks as if we can keep that line viable, by work on the sea defences and various bits of flood work by the Environment Agency."
Lord Henley said an alternative line would cost about £100m.
The alternative line would pass through Okehampton, Tavistock and Plymouth.
Conservative MP for Newton Abbot, Anne Marie Morris said the existing line "brings an awful lot of wealth to Dawlish and Teignmouth".
She added the cost of the sea defences was "money well spent" and compared to the cost of an alternative line, "it's a no brainer".