Apprentice star Christopher Farrell sentenced for fraud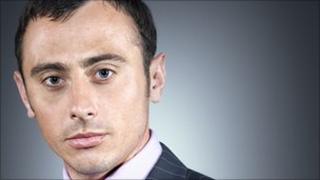 A former contestant on The Apprentice who altered mortgage applications to boost his earnings has been given a suspended sentence for fraud.
Christopher Farrell, 29, inflated clients' incomes to help them secure loans and earn himself commission.
The mortgage broker pleaded guilty to four charges of fraud by false representation in December.
Farrell, of Upton, Wirral, was given a nine-month prison sentence, suspended for two years, at Plymouth Crown Court.
The former Royal Marine, who was fired in week eight of the latest series of the BBC programme, was also sentenced to 200 hours of community service.
The court heard Farrell made three mortgage applications and one re-mortgage application totalling £750,000 on behalf of clients who did not know what he was doing.
Farrell was arrested in August after one bank discovered a fraudulent application.
He tried to blame his colleagues for forging documents, but quickly admitted his guilt before magistrates in Plymouth.
After his admission, magistrates decided their powers of sentencing were insufficient and committed Farrell to Crown Court to be sentenced.
Faked documents
Farrell worked as a mortgage and insurance adviser with the company Mortgages for Plymouth between November 2007 and August 2009.
He admitted altering P60 forms and payslips and creating fake documents to ensure his clients' mortgage applications were successful - thereby achieving his monthly target.
In one instance, he made an application for a client with a £40,000 salary which showed he earned £120,000 a year.
Magistrates also heard that Farrell had two previous convictions for possessing an offensive weapon.
He admitted the two charges in September 2009 - before filming The Apprentice - after police found an extendable baton and a knuckleduster in his Mercedes.
He was given a two-year conditional discharge for the weapons charges and was ordered to pay £847 costs.
During his appearance in The Apprentice, Farrell said he was a sniper and said he took "that killer instinct across into business".