South Hams Council in U-turn over closed bin plans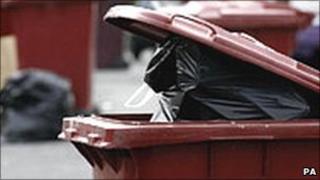 A Devon council has made a U-turn on a plan to not collect wheelie bins with lids not properly closed.
South Hams Council was to introduce the policy to cut annual repair bills of more than £12,000 to lids damaged when over-filled bins were emptied.
If approved, excess rubbish from the council's 84,000 bins may have been left and collected two weeks later.
The council said it was now supporting a programme to raise awareness of the problem to households.
The decision was taken by the council's Executive Committee on Thursday.
The authority said the move had been considered because lid repairs were costing more than £1,000 a month due to damage caused by lifting equipment on refuse collection trucks.
The council said: "The executive decided that they would prefer to work with householders to resolve this issue and therefore will not apply a formal policy regarding the closure of bin lids.
"We are urging residents to think twice before over-filling their bins. This is not a hard policy, but a public request to help us all save money."
It said the its latest recycling and waste collection calendar, due to be sent to all households within the next few weeks, would highlight the issue.