Anger at £33m cost of new Devon bypass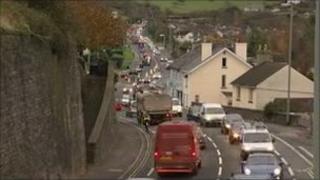 Opponents of a bypass linking Newton Abbot and Torquay have criticised two councils for planning to spend £20.5m more on the project.
Devon County Council and Torbay Council have raised their share of funding for the South Devon Link Road from £12.5m to £33m.
Campaigners said that was wrong amid big cuts to services.
The county council said the bypass, first proposed more than 50 years ago, was critical to the area's future.
The £130m bypass around Kingskerswell was left out of government road building plans in 2010.
Conservative-controlled Devon and Torbay councils are tying to get the road back on the priority list.
As a result they have submitted a new business case to the government which cuts the cost by £16m to a total of £108.3m and increases the councils' contributions.
But campaign group Kingskerswell Alliance have questioned whether the "pointless and destructive" bypass is appropriate in the current financial climate.
Devon County Council is proposing cutting its budget by £54.6m in the next financial year in response to government cuts.
'Absolutely critical'
Kingskerswell Alliance said there was no evidence that the bypass would solve any traffic problems.
It has proposed small adjustments along the current road instead of the bypass.
Chairman Ken Pegden said: "The South Devon Link Road, which would save less than a minute on average journey times, appears to be more important to councillors than the provision of key services and public transport at a time of severe cuts."
Paul Ewings, chief engineer at the county council, said: "We have invested time, money and effort into the bypass for a considerable period of time.
"It is absolutely critical to Torbay and the surrounding area."
Mayor of Torbay Nick Bye said: "The scheme will bring benefits for business, residents and visitors alike.
"This is a real chance to create a positive change for Torbay and help generate new jobs, new opportunities and improve the quality of life for everyone living alongside the old road."
The Department for Transport is expected to make its decision by the end of January.