Okehampton dairy workers face jobs axe in closure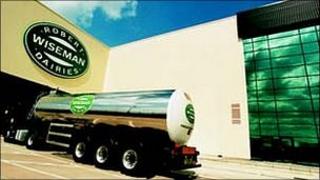 Sixty nine jobs are expected to go with the closure of Okehampton Dairy in Devon.
Owner Robert Wiseman Dairies said it was switching operations to a new larger plant, about 40 miles away at Bridgwater in Somerset.
It said the Okehampton plant was too costly to run and the investment required to modernise it was "prohibitively high".
The union Usdaw said it was "distressing news" for workers.
Robert Wiseman, one of the largest dairy firms in the UK, said some Okehampton workers could be deployed to Bridgwater.
The firm reduced the number of workers at the Okehampton plant in 2009 when it closed the distribution side of the business and cut production to one shift.
'Dedicated workers'
Martyn Mulcahy, group operations director, said: "We have created 500 jobs and invested £100m in Bridgwater to secure a competitive future for milk from dairy farms in the South West.
"At Okehampton, we have to address the reality, which is that the cost of processing milk and the investment required at the site is prohibitively high in comparison to our other dairies in the UK."
John Gorle of Usdaw said workers at Okehampton had "feared the worst" since the Bridgwater plant was opened in 2007.
He said compulsory redundancies could not be ruled out.
"These are loyal and dedicated workers and Usdaw will be doing all we can to defend their jobs and to represent them throughout the consultation process."