Baby Rothschild's giraffe Kito dies at Paignton Zoo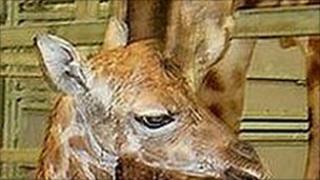 The baby giraffe born at Paignton Zoo in Devon has died after his keepers warned his first-time mother was failing to feed him sufficiently.
Kito was born unexpectedly on 10 January but was small and did not put on weight.
Keepers intervened to bottle-feed the Rothschild's giraffe, a species on the endangered list, but Kito was found to have other health problems.
After developing breathing problems, Kito was put to sleep on Monday.
Neil Bemment, curator of mammals at Paignton Zoo Environmental Park, said they had been giving him regular feeds since he was a week old.
'Difficulty breathing'
"After his Monday afternoon feed he was in a semi-collapsed state and unable to hold his head up unassisted.
"He was also having difficulty breathing. Keepers and veterinary staff did everything they could for him but in the end we had to take the decision.
"It was hard for us but it was right for him. You cannot let an animal suffer."
Kito's keepers had been dealing with various health concerns for several days including his failure to put on weight and his rear leg tendons not extending properly.
Philip Knowling, from the Zoo, described the atmosphere there as "very sad" particularly since Kito's death had revived memories of the death of three giraffes including a baby, in a fire in 2006.