Online campaign over Devon domestic abuse service cuts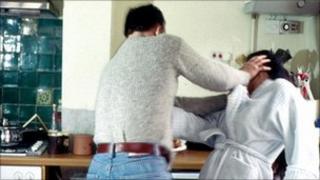 More than 1,200 people have joined a Facebook campaign opposing cuts to domestic abuse services in Devon.
The county council wants to save £1m by axing funding to Against Domestic Violence in Devon (Adva), which supports a number of projects.
Refuges in the county will continue to be supported but some organisations have said they will face closure if funding is withdrawn.
The budget proposals will be considered by a council committee on Monday.
One woman commenting on the social networking site said: "If it wasn't for people like the domestic abuse service I think I would have lost my daughter and probably have been dead now.
"Domestic abuse services are needed for young parents and teenagers like myself as we need the help to keep us on track and to stop us from being abused again."
Another said: "I'm a survivor. If it wasn't for my local women's aid I would still be existing day to day in an abusive relationship.
"With their help I am now living again."
'Harm reduction'
Devon County Council is proposing cutting its budget by £54.6m in the next financial year in response to government cuts.
It wants to axe its grant of £1,017,000 to Adva, about half of Adva's entire budget.
But speaking on the BBC Politics Show, to be broadcast later, Labour County Councillor Saxon Spence said: "It does seem bizarre that at a time when we have seen a 100% cut in our excellent domestic violence strategy that we are offering to increase the budgets that local councillors have by £5,000 a head.
"There are some bizarre ways of spending our money."
The Domestic Violence and Abuse Service receives 90% of its income, about £330,000 a year, from Adva.
North Devon Women's Aid receives about £300,000 a year, almost all of it from Adva.
It has said without money from the council it cannot function.
The Stop Abuse For Everyone organisation said its outreach services across Exeter, east and mid Devon would be axed completely if the proposed cuts went ahead.
Devon County Council said its budget proposals included giving nearly £500,000 to women's refuges for victims fleeing domestic violence.
It also said "safeguarding" and "harm reduction" would be a key focus in its new structure.