Squatter evicted from Harberton's 'Eyesore Cottage'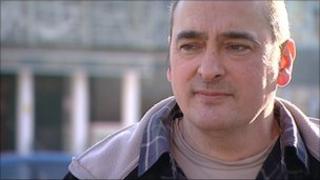 A squatter is to be evicted from a house in Devon which had been empty for more than three decades, despite having the backing of local residents.
A judge at Plymouth County Court gave Bill Davies 14 days to leave Church Cottage in Harberton, near Totnes.
But he refused the owner's request for Mr Davies to pay the estimated £1,700 legal costs.
Villagers had dubbed the property "Eyesore Cottage" and signed a petition supporting Mr Davies.
Mr Davies said the fact that the judge did not make him pay the legal costs sent out a message.
"I think he's saying to people with properties that are left empty that they're not looked upon in a good light," he said.
"I hope the owners put the place on the market and some family buy it and tidy it up.
"It's been irritating for the villagers because it's alienating having a place abandoned.
"Maybe owners of second homes will think twice and perhaps rent them out, put them on the market or start using them more."
The self-employed builder, who had been living in a caravan before moving into Church Cottage, said he had offers from friends of a place to stay and would be "OK".
The owner of Church Cottage is 89-year-old Joan Melbourne, who lives in Middlesex.
Mrs Melbourne's solicitor told the court that the property had not been used much in recent years due to Mrs Melbourne's ill health and the death of her husband.
The solicitor said that the property would remain in its current state for a while longer, but that Mrs Melbourne did plan to have it refurbished.
Harberton is in the South Hams, where house prices are the most expensive in Devon and there are an estimated 600 empty homes.