Devon domestic violence projects fear £1m cuts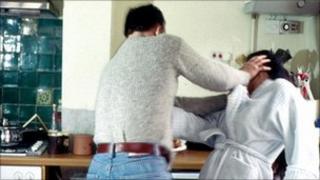 More than £1m could be cut from domestic violence services in Devon as part of a spending review by the county council.
The council wants to axe funding to Against Domestic Violence in Devon (Adva), which supports a number of projects.
North Devon Women's Aid said it would face closure as a result.
The county council said it would continue spending £500,000 a year on refuges for domestic violence victims.
Spending by Devon County Council should be cut by £54.6m in the next financial year in response to government cuts, the authority is proposing.
The county council wants to axe its grant of £1,017,000 to Adva, about half of Adva's entire budget.
The Domestic Violence and Abuse Service, Stop Abuse from Everyone (Safe) and North Devon Women's Aid will be affected.
The Domestic Violence and Abuse Service receives 90% of its income, about £330,000 a year, from Adva.
North Devon Women's Aid receives about £300,000 a year, almost all of it from Adva.
Chief executive Susan Wallis said: "Without the money from the council we cannot function."
She said the organisation dealt with more than 1,000 referrals last year, including women whose lives were at risk.
It also worked with children affected by the "trauma" of domestic abuse.
The budget proposals will be considered by a committee on Monday.
A spokesman for Devon County Council said its proposals included nearly £500,000 to women's refuges for victims fleeing domestic violence.
He said that in the past the council had gone "way beyond our statutory duties in this area".
"Safeguarding and harm reduction will be a key focus in our new structure, whether for vulnerable children, older people or victims of domestic violence," he said.
"That means a higher profile for this important preventative work in our mainstream, every day operations.
"We will be discussing any potential for alternative arrangements with partners to make sure that people's needs continue to be met."