Plymouth man 'blown backwards' by gun shot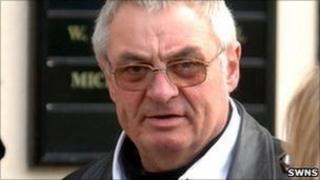 A Devon businessman has told a court how he was blown backwards by a shot to his stomach after two men burst into his home.
Car dealer Colin Pester, 63, was seriously injured in the shotgun attack in Plymouth on 30 April 2008.
Gary Ball, 45, from Beacon Park Road, Plymouth, and Mark Gagen, 42, deny robbery, causing grievous bodily harm and possession of a firearm.
The trial at Plymouth Crown Court continues.
Mr Pester said he had been at work at his car sales business off Mutley Plain in Plymouth, but he left earlier than usual to go home to cook for his family.
Dragged upstairs
He arrived at his house in Whitleigh at about 5pm and his wife Helen and son Jack were already at home.
Mr Pester told the court that some time later his seven-year-old son answered a knock at the door and two men wearing balaclavas rushed in.
Mr Pester said he was then "blown backwards" as one of the men shot him in the stomach and hit him across his face with the barrel of a sawn-off shotgun, all in full view of his son.
He said the gunman then stood over him and pulled off his wedding ring and another ring on his right hand as he lay on the floor.
Mr Pester described how he bandaged his stomach using a towel as his wife and son were dragged upstairs by the other man, who was screaming at them and demanding to know where valuables were kept.
After a couple of minutes he said the man ran back downstairs and the pair fled through the front door.
The jury heard that Colin Pester knew Mr Ball as a friend of one of his employees.