Plymouth court hears son witnessed father's shooting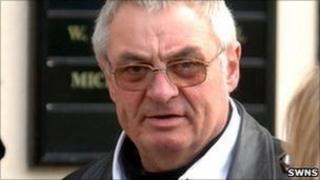 A seven-year-old boy witnessed his father being shot at nearly point blank range, a court in Devon has heard.
Car dealer Colin Pester was seriously injured in the shotgun attack at his home in the Whitleigh area of Plymouth on 30 April 2008.
Gary Ball, 45, from Beacon Park Road, Plymouth, and Mark Gagen, 42, deny robbery, causing grievous bodily harm and possession of a firearm.
The trial at Plymouth Crown Court continues.
Ian Pringle QC, prosecuting, told the jury it was Mr Pester's seven-year-old son Jack who opened the door to two men, who burst into the house.
One of them had a shotgun, he said, and a short while later it was fired at "nearly point blank range" into Mr Pester's stomach.
'Stolen car'
He added: "It must have been a terrifying scene".
During the attack expensive watches and jewellery were stolen from the property.
The jury was shown photographs and CCTV footage, which the prosecution claims show the two suspects before and after the raid.
It alleges that after the robbery the two men sped off in a stolen Renault Clio car with cloned number plates.
It was later found burned-out in Mowhay Road in Plymouth.
The prosecution also alleges the men were picked up by another car near a footbridge over the A38 before returning to Gary Ball's home.
Mr Ball was arrested the following day.
Mr Gagen, who was on the run from prison at the time of the incident, later surrendered to police in Leicester.
The trial is expected to last up to five weeks.