Devon County Council faces £55m cut in spending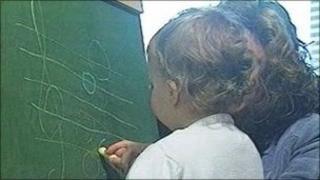 Spending by Devon County Council should be cut by £54.6m in the next financial year in response to government cuts, the authority is proposing.
Children and young people's services will lose more than £14m, with early years services down by nearly £3m.
Adult and community services will see their budget cut by £10m and the highways budget will be cut by £8m.
The proposals will be presented to a committee meeting on 24 January.
The Conservative-controlled council, which has a total budget of £865m, said in 2010 that 900 jobs would be axed.
However, under the proposals there will be increases in spending on social care for older people and people with disabilities, children in care and children with special needs.
Grants to schools will increase and no libraries will be closed.
The authority said it had been faced with a 27% cut in its financial support from central government.
Opening hours at children's centres will be reduced but the council says no children's centres will be shut.
There will be reductions in school transport, youth work, information, advice and guidance services and the Learning and Development Partnership, which works with schools.
Devon County Council leader John Hart said: "I am not going to try to pull the wool over anyone's eyes. These spending cuts are going to hurt.
"But I have listened to people's views across the county and we are doing our utmost to protect the most vulnerable people in our society, whether they are young or old."
Waste disposal is being cut by £2.1m which will mean new charges at recycling centres and the closure of recycling centres at Dawlish and Buckfastleigh.
Liz French regional organiser of the union Unison, said: "I am not sure how some of the departments are going to function effectively and deliver services in the way they should.
"I think staff are already terribly demoralised. They are facing cut after cut after cut."