Devon and Somerset firefighters face 96-hour shifts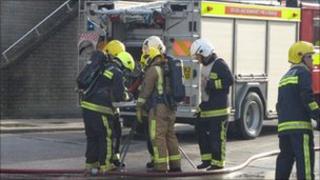 Devon and Somerset firefighters could be at their station for four days on the run under cost-cutting proposals.
Firefighters would be offered a 20% salary rise in return for the change in hours being considered by Devon and Somerset Fire Authority.
The Fire Brigades Union said the move would mean firefighters would be "imprisoned at work".
The fire service, which is facing a 25% budget cut, said the changes would mean no redundancies.
The 96-hour shifts are among proposals being considered by the fire authority, including cutting back on community fire prevention visits and reducing crew numbers at Somerset stations to match how Devon operates.
A report to the fire service said a firefighter working the new shift system could increase his or her earnings to £34,000 a year or more.
But Trevor French from the Fire Brigades Union said it was "unacceptable" to ruin firefighters' family lives.
"It means that firefighters will be imprisoned at work.
"They would not be able to leave their workplace for up to 96 hours a week.
"It's a throwback to the 30s or 40s."
'Good for taxpayer'
The cuts are being considered as a result of the government's Comprehensive Spending Review which fixed spending budgets for each government department up to 2014-15.
The fire authority estimates that it will have to save £3.5m in 2013 and a further £3.5m in 2014.
Mark Healey, the fire authority chairman, said: "We will not be closing fire stations, reducing the number of fire appliances or changing response times as a result of these proposals.
"We will have fewer firefighters as a result of not recruiting this year, but we will be paying some firefighters more money for working the longer hours needed to fill the gaps.
"We have thought long and hard about these changes and feel that we can implement these without making staff redundant or negatively affecting public safety.
"This has to be good news for the taxpayer."