Guide dog access row at Devon hotel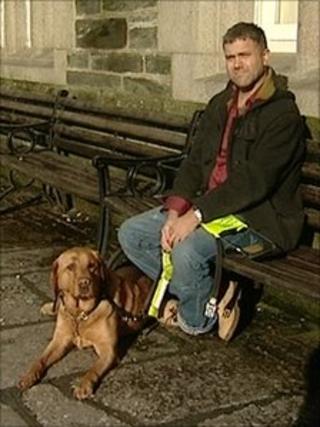 A man from Devon who is registered blind said he was "astonished" when he was asked to leave a hotel restaurant because he had a guide dog with him.
Stephen Hartley, 39, from Tavistock, said staff at Browns Hotel in the town said his dog was not allowed in because they were serving food.
The hotel denied his claim and said Mr Hartley had been asked to move because he had not made a booking.
It said it regretted any inconvenience caused to him.
Mr Hartley, a mature student at the University of Plymouth, had gone to Browns Hotel on 8 January to have a drink with friends who were having dinner there.
He was accompanied by his five-year-old Labrador guide dog, Hector, and said he had gone to the restaurant before without any problem.
He said: "Initially I was welcomed in.
'Second-class citizen'
"But then a bar manager came over and said my dog was not allowed because they were serving food."
Mr Hartley said that when he explained his dog was a guide dog he was told he would still have to leave.
"I was made to feel like a second-class citizen, it was astonishing," he said.
In a statement, Browns Hotel, Tavistock, said: "We take all matters of customer care very seriously.
"The facts alleged have come as a shock to the management of the hotel as Mr Hartley is a well-known and regular customer.
"We regret any inconvenience that may have been caused to Mr Hartley and can assure him this was never the hotel's intention."
The hotel said Mr Hartley had been asked to move because it was hotel policy not to allow a customer to join a pre-booked table without prior arrangement.
It said he had been offered an alternative seat in the bar area but Mr Hartley had refused and left "rapidly" before the situation could be explained to him.
Mr Hartley said "never at any point" had the issue of customers joining a pre-booked table been mentioned to him.
The reason given was that dogs were not allowed where food was being served, he said.
The Guide Dogs for the Blind Association said the Equalities Act 2010 stated that guide dogs must be accepted into all establishments, including restaurants and hotels.
Barry Butt, the organisation's South West representative, said incidents like the one alleged by Mr Hartley "unfortunately happen quite often."
He said: "It causes great distress to people who are guide dog owners.
"If you can't take your dog with you then you are unable to have the independence that anyone else is able to have.
"It really is very discriminatory."