Devon parking meters plan dropped after objections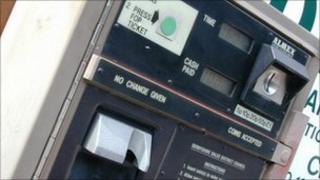 Plans for parking meters in a number of Devon towns have been withdrawn after objections from local people.
Devon County Council proposed on-street parking restrictions in eight towns.
But a meeting of local people and politicians in Kingsbridge was told that the plans had been dropped.
The council received about 4,400 objections to the proposals in Okehampton, Honiton, Budleigh Salterton, Sidmouth, Kingsbridge, Dartmouth, Braunton and Tavistock.
Plans for the pay and display meters, which had been due to be discussed by the county council in January, have been dropped, said Councillor Stuart Hughes, Devon County Council cabinet member for transport.
Mr Hughes has offered the towns a professional survey of traffic management by a council engineer.
But it will be left to local people to decide if they want meters.
He said: "Rather than pay and display, we are going to look at the requirements of each town.
"I am a very good listener, it's important to listen to people's views and that's what I have done.
"You could claim that the opponents have won the day, but it is a bit on both sides."
Dr Sarah Wollaston, Conservative MP for Totnes, said: "I am really delighted.
"They have been forced to listen because the strength of feeling on this issue was enormous."
Dr Wollaston said many people in Kingsbridge had been opposed to meters because of the effect on shops in the town centre and on local people.
"It would have been the nail in the coffin of the town," she said.
"There is never going to be one solution that everyone agrees with, but I think a traffic engineer could reach a compromise solution."