Firms urged to press for Kingskerswell bypass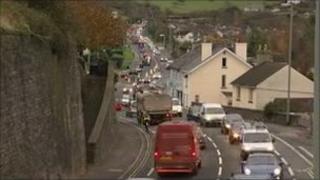 Torbay businesses have been urged to write letters to the government in support of a new bypass.
The £130m bypass around Kingskerswell was left out of government road building plans in 2010.
But the Torbay Development Agency (TDA) said that with enough pressure, the bypass, which was first proposed more than 50 years ago, could be built.
The Department for Transport is analysing the bypass plan and others to determine funding for the future.
TDA chairman John Richards said a bypass, also called the South Devon Link Road, was "hugely important" to the local economy.
Mr Richards said: "Retailers, manufacturers and distribution companies are affected by delays in getting goods to and from Torbay.
"Tourism suffers when visitors get a negative experience when visiting the Bay or when trying to explore the wealth of attractions on offer in the area."
He said the TDA needed the support of local firms to "help influence a positive decision".
It has published guidelines for businesses on what information would be useful to include in a lobbying letter.