Exeter's uncollected rubbish is 'not a major problem'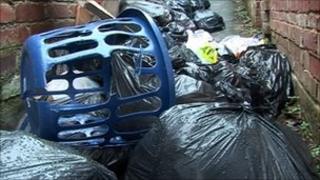 The leader of Exeter City Council has said having piles of uncollected rubbish in parts of the city is not a "major problem".
Councillor Pete Edwards told the BBC the build-up was caused by a combination of the icy weather and the Christmas holiday.
A normal rubbish collection service is not expected to resume until 24 January.
A council meeting to discuss the situation is due to take place later.
Speaking on BBC Radio Devon, Mr Edwards said: "Every day the bin lorries could have been out they have been out."
He also said the Labour-led council did not believe it was necessary for refuse collectors to work on Christmas bank holidays.
He said refuse could not have been collected on the bank holidays because rubbish tips were not open to dispose of waste.
"I do not see it as a major problem," he added.
Blocked alleyways
However, West Devon Borough Council, which covers towns including Tavistock and Okehampton, said it had made prior arrangements to ensure that rubbish tips had been kept open over the holiday period.
It also said its refuse staff had worked during all the Christmas bank holidays to clear the backlog caused by the icy weather.
A spokesperson said: "In some areas where ice was still a problem, crews used wheelie bins and walked to properties to collect the waste.
"It could then be taken back to the vehicle where it was safely parked."
The problem was discussed at an emergency Exeter City Council meeting on Tuesday morning.
Yolanda Henson, the leader of the council's Conservative group, said it should have taken place last week.
Some people in Exeter have not had their rubbish collected since 8 December, leading to a build-up of bags on pavements and some blocked alleyways.
Rebecca Bradbury, who lives in the St James area, said: "The abject lack of communication from [the council] has meant that we don't know what's going on.
"Apart from the fact the rubbish looks disgusting, there is the health risk and the risk of animals getting into it."
In frustration at the lack of collections some residents have begun taking their rubbish straight to Exeter's Marsh Barton recycling centre.
Devon County Council, which runs the site, has begun providing extra bins to cope with demand.