Plymouth-based HMS Albion becomes Royal Navy flagship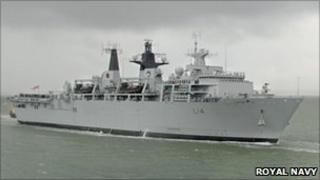 Devon-based warship HMS Albion has been announced as the fleet flagship of the Royal Navy.
The 18,000-tonne amphibious assault ship, based in Devonport, will inherit the fleet role from HMS Ark Royal.
Commanding officer Capt James Morley said: "It gives all in HMS Albion great pride to assume the mantle."
The ship is currently used to attend incidents around the world and transported people during the Icelandic volcanic ash cloud disruption in April.
HMS Albion will take over from Portsmouth-based HMS Ark Royal, which will be decommissioned in January.
The ship returned to Portsmouth for the final time on Friday.
The government decided to axe the aircraft carrier as part of an 8% cut to defence spending.