Plymouth Argyle "disappointed" by 2018 World Cup vote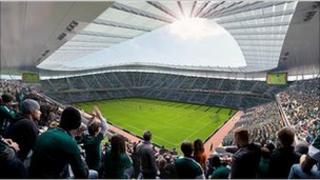 Plymouth Argyle has expressed its disappointment that England will not host the 2018 World Cup.
Home Park was one of 12 sites around the country bidding to host some of the matches. Russia was chosen by Fifa's executive committee as the 2018 venue.
Plymouth Argyle vice-chairman Paul Stapleton said:"I don't think we could have done any more. It's a great underwhelming moment."
He added: "The Plymouth bid was fantastic."
"So many people put so much effort into what went into the bid. It was going to be a legacy for the youngsters of Devon and Cornwall, and it's just so disappointing," said Mr Stapleton.
Had England been selected to host the competition, Argyle's ground, Home Park, could have increased from a 20,000 to a 43,000-seat stadium.
Mr Stapleton said: "Plymouth is still going to press on with what it's doing, the aim is to progress the football club for the benefit of the region.
"We're hoping that the people who backed us for the bid will still back us."
Leader of Plymouth City Council Vivian Pengelly also expressed her disappointment.
She said: "It was going to do such a lot for the town, we worked hard with the bid, we had a lot of people from the FA down here showing them how beautiful the city is, so we're bitterly disappointed.
"I think what we have to do now is to look at the big events and see what events we can get down here."
Earlier this year, Ms Pengelly caused controversy by going on a £5,700 council-funded trip to the 2010 World Cup in South Africa.
"We learned an enormous amount about what to do if England did get it, and I think we had to do that. I was delighted we went," she said.
She also wished Argyle "well" after the club's bank account was frozen following a winding-up petition last week.
"It happens in football You go up, you go down, you have financial problems, but there'll be good times again."