'Widespread' snow affects roads across Devon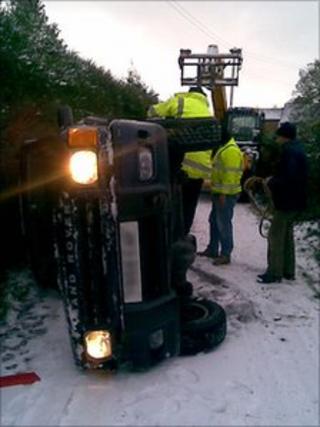 Overnight snow has caused problems on Devon's roads.
The worst hit areas included east Devon and the South Hams while north Devon was also badly affected.
The county council described the snowfall as widespread, adding that road surface temperatures had fallen to -7C on parts of Dartmoor overnight.
Bus companies reported disruption to services and some schools closed. Snow continued falling in the east of the county throughout the day.
Gritters treated main routes overnight and worked to clear secondary roads, the council said.
Hugh Griffiths, in Devon County Council's control room, said reports of snow had been coming in from all over the county.
Okehampton and South Molton were reported to have been badly affected.
The A379 in Plymstock, the A373 at Harbertonford, the A361 north Devon link road and the A3122 near Dartmouth were affected by the conditions.
The A361 at Tiverton, the A380 Torquay Road at Kingskerswell and the A385 Totnes Road at Collaton all had slow-moving traffic, the Highways Agency said.
Snow ploughs were working around the A386 between Mary Tavy and the Lydford area, the county council said.
The majority of treated routes were passable with care, a spokesman added.
Icy roads
A 4x4 vehicle was left on its side in an accident near Tiverton. The occupants, a man and two girls, were not injured.
Other road accidents were reported around the county. Police described most of them as relatively minor and there were no serious injuries.
Devon County Council, the Highways Agency and Devon and Cornwall Police said they liaised throughout the night but took the decision not to activate the severe weather response for Haldon Hill on the A38 and Telegraph Hill on the A380.
They said the hills were carefully monitored and it was decided that normal gritting procedures were sufficient to keep the routes clear.
First Buses said heavy snow in Dartmouth meant local services were not operating.
All services in north Devon were also subject to disruption while services in Plymouth were operating but could be delayed, it added.
Stagecoach also said passengers should be prepared for delays because of the weather.
School bus services were badly affected for some students. Okehampton College had 15 buses either cancelled or delayed.
Some schools have been closed on Thursday, Devon County Council said.
Events in the county have also been affected by the weather, including the cancellation of a concert by the Bournemouth Symphony Orchestra at Exeter Cathedral.
Chris Cranston, the county council's highway operations manager, said: "We're not expecting to see a thaw today.
"As we're in for another deep frost tonight, there could well be widespread icy conditions, particularly off the treated network."
Spells of snow were due to persist in the east of the county for much of the day, the Met Office said.