Devon milkman uses fridge to stop his supplies freezing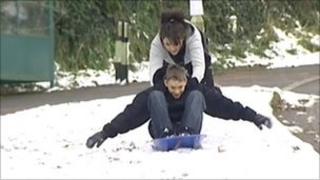 A Devon milkman whose supplies were in danger of freezing solid ended up putting his milk bottles in the fridge - to keep their temperature up.
Barnstaple milkman Dave McDonough, 51, said it was the only way to stop the milk from expanding out of the bottles.
Overnight the lowest temperature in Devon was -7.2C (19F) in Netherbridge.
Mr McDonough said: "At this time of year you would have thought there was no need for (a fridge) because it is cool enough."
The Dairy Crest deliveryman said: "It's an unusual situation to put the fridge on even though it's perishing cold.
"But I have had to put the fridge on to keep the temperature up or everyone will have frozen milk."
Snow has been falling in north Devon, with up to 5cm (2in) of snow expected on high ground.
The A399 and a school in Barnstaple have been closed because of snow.
Gritters have been out in force since the early morning and drivers are being advised to take care.
Goodleigh Primary School in Barnstaple has been closed because of the extreme weather, said the county council.
The A399 in Blackmoor Gate near Barnstaple is blocked and there is slow traffic in both directions at the A39 junction because of the snow, according to the BBC travel website.
Forecasters say that Exmoor and the Blackdown Hills in Devon were expected to get snow later on Tuesday.