ChildLine founder Esther Rantzen visits Exeter centre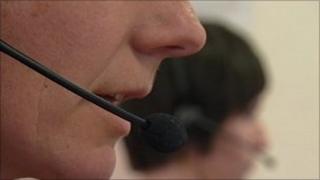 The founder of ChildLine has visited its South West centre to thank volunteers for the work they do.
Esther Rantzen, who is president of the charity, said more than 5,000 children were helped by volunteers last year.
The confidential helpline which is run by the NSPCC was set up in 1986 to help children in danger or distress.
The Exeter centre is run by 70 volunteers, who take calls from young people across Devon and Cornwall.
Over the Christmas period last year, it received 74 first-time calls from children.
Nationally, Childline received more than 150,000 calls in 2009 on subjects ranging from bullying in school to sexual abuse.
Ms Rantzen said when ChildLine first began, some of the children phoning for help had suffered sexual abuse for up to 15 years.
"Now if you take the children who ring us about sexual abuse, half of them ring us within a month of it starting," she told BBC News.