Squatter battles for right to live in 'Eyesore cottage'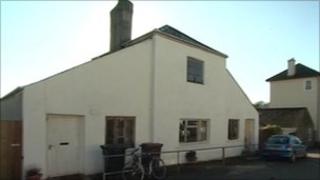 In the heart of the pretty south Devon village of Harberton stands a house which locals say has been empty for several decades.
They became so fed up with the appearance of the property it acquired the nickname of "Eyesore Cottage".
But last summer the exterior was mysteriously painted white, though villagers are staying quiet about who was behind the attempt to smarten it up.
Recently a tub of pansies appeared on the window sill, put there by Bill Davies, a squatter and self-employed builder who moved in several months ago.
But the owner, a woman who does not live in the area, was said to be distraught to learn he had taken up residence and will try to have him evicted at a court hearing on Friday.
But dozens of people in the village have now signed a petition, started by Mr Davies, calling for him to be allowed to stay in the house while others have contributed to his estimated court costs of £150.
Messages of support
As well as a petition, Mr Davies has also filmed messages of support from people which he is hoping to show at the court hearing.
"The village want me to go to court because they're fed up with the cottage being empty," he said.
Harberton is in the South Hams, where house prices are the most expensive in Devon and the issue of empty homes is a contentious one.
One local resident who did not want to be named said: "I'd have thought he'd get 90% support for his petition.
"People are happy to see the house being used rather than just getting left derelict.
"It's such an eyesore in the centre of the village we call it eyesore cottage."
Another villager said: "It's been empty since I moved here but it would be great to see the place occupied formally and legally."
Mr Davies claimed he has not done any damage by squatting in the property and said he was keen to come to an arrangement with the owner to pay her rent.
But the owner's son said the house had belonged to his grandfather who died in 1975 and they are determined to press ahead with the court case.
"I find it horrible that someone can just break into a property and live in it," he said.
He agreed that the house was in a state of disrepair but said: "How would people feel if it was their property?"
The Empty Homes Agency estimates that nationally there are 290,224 homes which have been empty for more than 6 months.
Across the South West that figure is about 22,000, with about 600 of those in the South Hams.
In 2010 South Hams District Council launched its Empty Homes Strategy to try to increase the stock of affordable housing and prevent long-term empty homes from falling into disrepair.
'Precious resource'
Drew Powell, from the council's environmental health team, said: "We have approved grants to bring four properties back into use which will provide a home for families on the waiting list at an affordable rent.
"In addition we are in discussions with other owners.
"Any leads we receive [about empty properties] are followed up and where, within our statutory remit, we can take action, we will."
The coalition government is now offering incentives to councils like South Hams and earlier this month announced that, as part of its New Homes Bonus, it would match the amount raised from council tax on a property that previously stood empty.
It also set aside £100m in the Comprehensive Spending Review to help make vacant homes habitable again.
Communities Minister Andrew Stunell called the UK's empty homes a "precious resource" being "squandered".
Mr Davies, who was living in a caravan before he moved into the house in Harberton, was asked what he would do if he ends up being evicted from "Eyesore Cottage"?
"You just have to be optimistic don't you?" he said.