What 2018 World Cup bid win would mean for Plymouth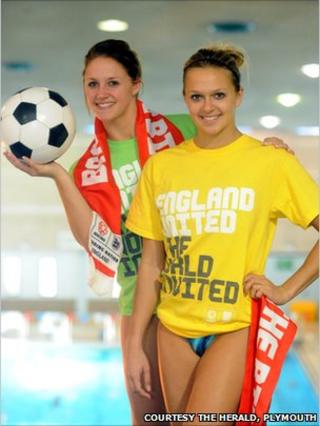 Plymouth is hoping it will be selected as a venue for World Cup matches if England is chosen to host the 2018 World Cup.
"It's a long way to come, but people always say it's worth it," says guest house owner David Marshall.
Mr Marshall, vice chairman of the Plymouth Hospitality Association, is helping with the chores in his seafront property in the city after a busy weekend.
Outside a crisp winter sun reflects on Plymouth Sound, a stunning amphitheatre of cliffs overlooking the sea.
You can see what he means about being "worth it" as sailing boats enjoy the stiff north-easterly pushing through the Sound.
Plymouth, in England's South West, is 195 miles from London.
But the city's bid supporters say that travel will not be problem.
They point out that Plymouth has its own airport with links to the regions and Newquay and Exeter airports are capable of landing large jets.
There are also ferries running from France and there is a good rail network from London.
If Plymouth is chosen for 2018, it will be a major money-spinner for the local hospitality industry, with thousands of fans flocking to a new 43,000-seat stadium at Plymouth Argyle's Home Park ground.
Plymouth would sit alongside the big cities of football such as Manchester and Liverpool in a tournament that is expected to make £575m ($897m) in ticket sales alone.
Mr Marshall, 52, who was also chairman of the Argyle supporters club in 2009 and has supported the club since he was 12, said: "It would be a shot in the arm for Plymouth.
"We are in favour of anything that will bring more people to the city."
Plymouth Argyle heads a consortium of regional supporters, including Plymouth City Council, Devon County Council, Cornwall Council and the University of Plymouth.
The bid has attracted some cynicism from supporters of competitors Bristol.
Questions have been raised about why Argyle, which can muster about 10,000 supporters to its games at Home Park, needs a 43,000-seat stadium.
Mike Arthur, who has supported Argyle since the 1950s, said: "It's really impressive, but what are we going to do with it?
"It's just completely over the top for us."
Argyle, who were relegated last season from the Championship to League One, are also facing problems off the pitch with a winding-up petition by HM Revenue and Customs.
On Tuesday, Argyle announced that both its playing and office staff had not been paid for November.
The club's bank account has been frozen following the winding-up petition.
But Mr Marshall said there was plenty of time for Argyle's fortunes to change.
"We are in a period of transition. Six years down the line, who knows?" he said.
"Hopefully we will be back in the Championship at a minimum."
Argyle declined to comment on its World Cup prospects.
Mr Marshall accepts that currently Plymouth is better known for its diving successes, led by Tom Daley, Tonia Couch and Brooke Graddon, than its success on the football field.
Ms Crouch and Ms Graddon have lent their support to England's 2018 bid.
As if to emphasise the point, a new £46m Olympic-size swimming and diving pool called the Life Centre is being built next to Home Park.
"Tom Daley is the man of the moment," said Mr Marshall.
"And that puts Plymouth on the sporting map."
Mr Marshall said the fortunes of cities often marched hand-in-hand with their football clubs and Plymouth was no different.
"If Plymouth won it would bring the whole city up.
"The waterfront area is already really coming on.
"It's time to start pushing Plymouth."